Vlogger sparks outrage after posting 'slave' make-up tutorial video – The Independent
A beauty blogger has come under fire after sharing a slave-inspired make-up tutorial.
Make-up can be a powerful and transformative tool but unfortunately for some , there seems to be confusion about what constitutes cultural appropriation and even racism. 
One such example comes from Turkish make-up artist Percem Akin who managed to tick both those boxes with her most recent YouTube video on how to dress like a slave for Halloween.
In what could be seen as another disturbing case of blackface, Akin deepened her skin tone, gave herself fake scars and donned a headscarf.
But, she didn't stop there.
In a bid to promote the video, the make-up artist shared images of the 'look' on her Instagram account where she used the hashtag #slave sandwiched between #blackwoman and #sadmakeup.
Understandably, people have been outraged by the tutorial taking to Instagram and Twitter to slam the artist.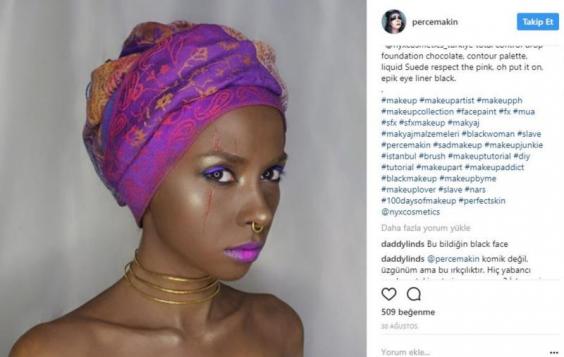 "This is highly offensive! This is hurtful, disturbing. This is not okay," one person wrote.
Having received such a huge backlash, Akin quickly deleted the video and blocked comments before finally making her Instagram account completely private. The YouTube video has since been taken down too.
An incident in which yet another white person thinks it's okay to 'dress up' as a caricature of a black person, outraged social media users are now calling for NYX Cosmetics – who are affiliated with the make-up artist – to cut all ties.
"I wouldn't choose such an ignorant person for a brand," one person commented. 
Reuse content